Walked 10,000 miles from Siberia to Australia.
Think about the last time that you went for a walk. How far did you go? Maybe you walked to a nearby restaurant, to the beach, or just around the block. How long did it take you to get to where you were going? 5 minutes, 20 minutes, an hour?
When Sarah Marquis went out for a walk in 2010, it would take her 3 years to get where she was going. What walk could possibly take 3 years? The 10,000 mile walk from Siberia to Australia of course.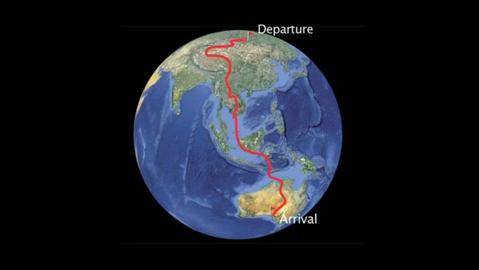 In 2010, Sarah is 38 and has been doing things like this for decades. In her twenties, she spent a month in New Zealand's Kahurangi National Park without bringing any food. In 2000, Sarah hiked the 2650-mile Pacific Crest Trail that runs from Canada to Mexico. In 2002, she spent 17 months walking 8700 miles around Australia, surviving by eating moth larvae and drinking snake blood. In 2006, she took eight months to walk 4350 miles through the Andes Mountains in Patagonia. It's safe to say that this is not Sarah's first rodeo.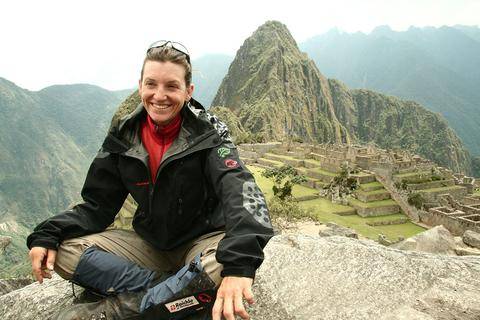 A normal trip requires planning, a 3-year walk requires meticulous planning. For two years, Sarah collects topographic maps, plots her route, and arranges resupply points. The route she plans has her going through tropical jungles and arid deserts, with temperatures as low as -22°F to as high as 124°F. Needless to say, she needs more than her North Face. Among other things, Sarah packs five pairs of underwear, tea-tree oil for massaging her feet, a BlackBerry, Crocs, and pink merino-wool pajamas. Everything she needs for 3 years fits into either her 75lb pack or her 120lb cart. Finally, after two years of planning, she sets off from Irkutsk, Siberia on her 38th birthday.
As with her past treks, the first six months are hellish. So hellish that Sarah has dubbed this period "the washing machine." This period is a half a year of continual discomfort and pain. Lots and lots of pain. In Sarah's words, "You can't move your hands, you can't move your feet, you just want to die." Anyone want to sign up yet? On top of the physical toll of hiking non-stop with a heavy backpack and the psychological toll of constant isolation, Sarah must deal with environmental threats - namely people.
In Mongolia, Sarah doesn't get a sound night of sleep for two months. Every night she is harassed by Mongolian horse-riders for entertainment, who try to steal her tent and other precious gear. Eventually, to avoid the riders, Sarah starts to wake up before dawn, walks until mid-afternoon, and then finds a place to hide for the night - optimally, a cement sewage pipe.
When she makes it out of Mongolia, she also makes it out of "the washing machine" phase as her body and mind harden. Despite being out of "the washing machine" and away from the Mongols, Sarah is far from in the clear. Knowing the dangers of traveling alone as a woman, Sarah uses multiple tactics to maintain a low-profile. She walks disguised as a man, rarely makes fires, and never cooks and eats in the same place. But even with all her caution, Sarah still runs into trouble.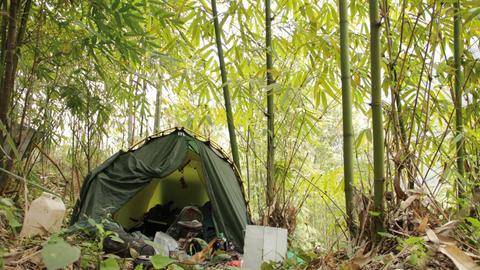 In the jungles of Laos, she comes down with dengue fever and must tie herself to a tree so that she can't drown herself in a nearby river from a fever-induced delirium. A few days later, she is taken prisoner by drug dealers with automatic weapons, who let her go after a night. In spite of all the pain, hardship, and danger, Sarah never doubts what she's doing and she never stops walking.
In 2013, after 3 arduous years, Sarah arrives at her final destination: a little tree in Australia that she had found during her years trekking around The Outback. She touches the tree, sits down, and it is over. She has walked 10,000 miles through two continents, six countries, eight pairs of walking boots, and three-thousand cups of tea.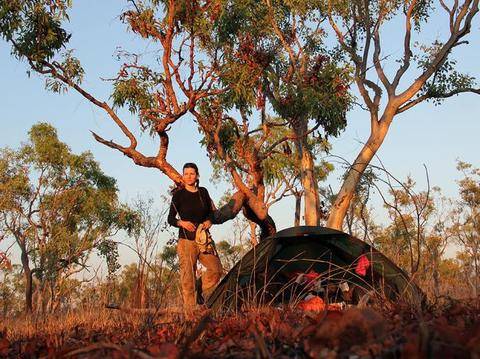 How was this ordinary women able to do this incredible feat? Her ability to remain present. When you are present you don't think about how far you've come or how far you have to go - a soul-crushing thought on a 10,000 mile walk. As Sarah says, "You can't think, 'I still have 1002 days to go, 995 days to go.' You'd get crazy. So, you live the moment." You simply think about the next step, then the next, and then the next.
This is not a mindset unique to Sarah. Many of the individuals in previous posts have said similar things and Navy SEALs, famous for their mental toughness, share the same attitude. As one SEAL wrote: "How do you eat an elephant? One bite at a time." Similarly, Sarah's attitude was "How do you walk 10,000 miles? One step at a time."
The beauty of this mentality is that in can be applied to literally anything. Saving money, writing a book, running an ultra-marathon - it doesn't matter. What matters is that you spend your energy focusing on what's in front of you and not on worrying about what's to come. If you can master that and nothing else, you'll be able to do far more than you ever thought possible.