Before 21st birthday was the most highly decorated US soldier ever.
Through the centuries, millions of brave men and women have stepped forward to serve the United States and all of them deserve our thanks and recognition. All who served have a story and many of these stories are incredible. But some of them are so incredible that they sound more fiction than fact. Stories like the legend of Audie Murphy.
So what makes Audie special? For starters, Audie is the most highly decorated soldier in the history of the United States. He received every medal of valor that the US offers, as well as three French medals and one Belgian. On top of that, he received all of these medals before he could buy a beer.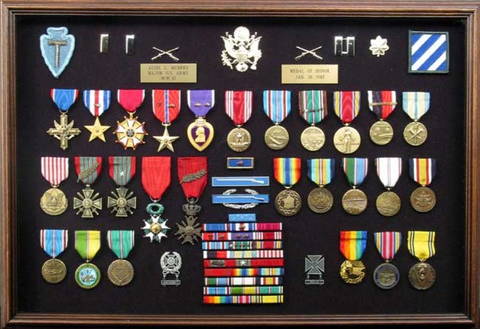 Like many American WWII soldiers, Murphy's military career begins after the events at Pearl Harbor. Now one thing that you should know about Audie Murphy is that he is not a big guy. When he tries to enlist at 17 years old, he is 5'5" and 110 pounds. By today's averages, that means he is about the size of a 13 year old boy. Because of this, he gets rejected by the Marines and the Army. Undeterred, he tries again when he turns 18 and again the Marines turn him down. But this time, the Army takes him - lucky day for them.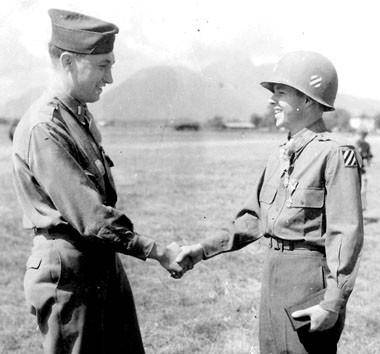 After training, Audie gets deployed to the European Theater in 1943. To say he disproves the idiom that "size doesn't matter" would be the understatement of the century. By the end of 1944, he has been awarded two Bronze Stars, Combat Infantryman Badge, Bronze Oak Leaf Cluster, Distinguished Service Cross, Presidential Unit Citation, two Purple Hearts, two Silver Stars, Legion of Merit, and a Battlefield Commission to Second Lieutenant. All of these awards come from Audie's actions in the heat of intense combat and usually involved him doing something in the face of overwhelming odds. Something like killing 6 Germans, wounding 3 more, and capturing 11 all by himself. By 1944 Audie's resume is already extensive, but his best is yet to come.
Holtzwihr is a tiny commune in northeast France, right on the German border. With only a few hundred villagers, the town is possibly the least important place where Audie sees combat. Despite this, it turns out to be the place where he makes his most heroic stand. Audie and his men are ordered to defend the area against a vicious German assault. Audie directs artillery fire to try and slow the advance and empties his rifle, but it's not enough. He orders his men to fall back and stays on the line by himself. Seeing a burning M10 tank with an intact machine-gun, Audie jumps up and begins firing at the German advance.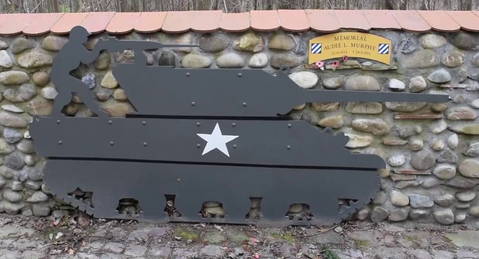 For the next hour, Audie single-handedly holds back the German offensive, inflicting more than 50 casualties. During this stand, he takes a piece of shrapnel in the leg but continues to fire, stopping only when he runs out of ammunition. He then rejoins his men, refusing treatment for his leg until he and his men successfully repel the Germans. One of Audie's men would later write that it was "the greatest display of guts and courage I have ever seen. For an hour he held off the enemy force single-handed, fighting against impossible odds." For his actions, Audie is awarded the highest award that the US military has to offer: the Medal of Honor.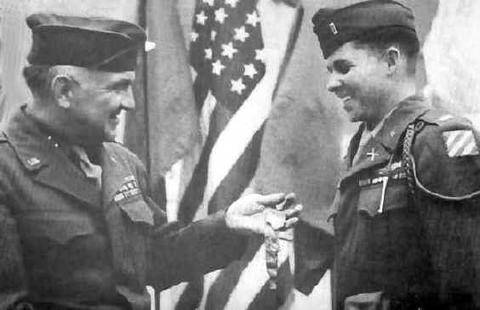 In June 1945, a month after the German surrender, Audie is awarded an unprecedented thirty-three medals for his actions over the previous two years. His twenty-first birthday is two weeks later. After the war, Audie goes on act in 40 Hollywood movies but tragically dies at the age of 46 when his personal plane crashes.
When Medal of Honor recipients are laid to rest in Arlington National Cemetery, their headstones are traditionally decorated with gold leaf. At Audie's request, he is buried under the standard, plain headstone - like the men he served with. Today his headstone is one of the most visited stones in the cemetery, second only to President Kennedy.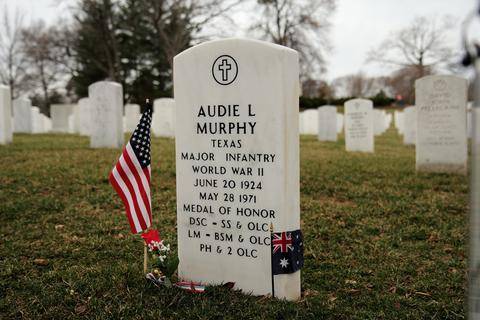 Odds are that you will never see combat in your life, so what can you learn from Audie Murphy? Audie Murphy survived more firefights than most ever see and acted courageously in the face of death time and time again. You would expect if anyone were to be without fear it would him. But in his biography, Audie candidly admitted that throughout all of his heroic deeds, fear was always next to him. If this man wasn't without fear then how can you expect to be? The bottom line is that you can't. Don't wish for the absence of fear because it is impossible to attain. Wish instead for the strength to still do what you need to when fear strikes you. Because, as Audie said, "bravery is just determination to do a job that you know has to be done."